Last Updated on by Ron
What's Yoast SEO?
Yoast SEO is a plugin for WordPress (and other platforms) that helps you optimize your content for search engines.
What do you mean with optimizing your content for search engines? Good question! you can take a look at this post about On-page SEO.
Optimizing is basically create or modify your content following some SEO rules for quality content, taking into account the ranking factors defined from Google (things Google considers important to rank high in searches).
Is just about making Google loves your content.
This is where the Yoast SEO plugin comes into play.
Take a look at this Yoast SEO tutorial for newcomers.
Yoast SEO – Installation & Initial Configuration
Just go to Plugins->Add New and type "yoast" in the searching box and click on the "Install Now" button.
Once the installation is completed you will see the Yoast plugin in the WordPress Menu:
This post is not intended to cover every single configuration option, the idea is to help you understand the most important features, so you can get the most out of Yoast from the first minute.
With this in mind, just click on General and open the configuration wizard, this is a very nice tool that will walk you through the basic configuration.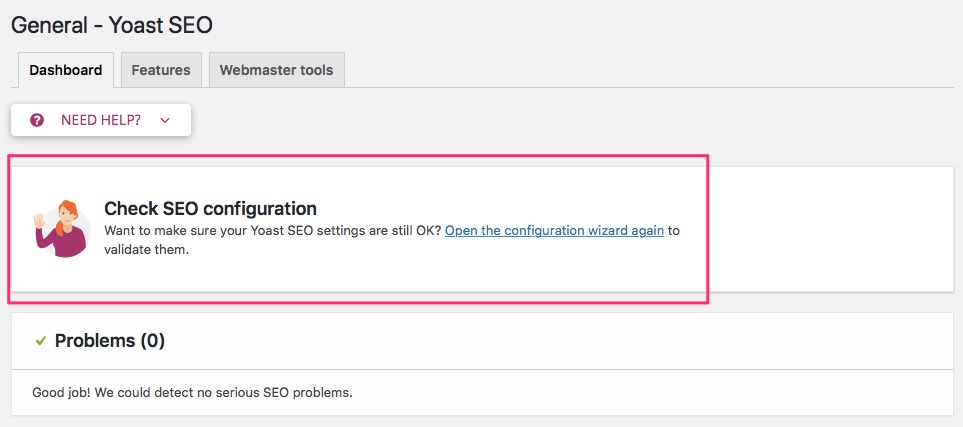 There are many other SEO settings that you can customize using the Yoast SEO plugin, but this is enough to start, I want you to focus on content creation.
The Yoast SEO Metabox
How Yoast SEO works? OK, here we are, this is the exciting part! You can find the Yoast metabox on the right side or at the bottom of the WordPress editor.
You have TWO tabs:
SEO Analysis – Important things you need to take into account to optimize your blog post for search engines (Google, Bing, Yahoo, Baidu). Including the main keyword.

Readability Analysis – Check that you are following some common rules to create a great copy.
Yoast for WordPress uses a light system to let you know if you are doing a good job.
Green Light – Good
Orange Light – Improvement
Red Light – Problem
Please don't get obsessed with these lights! Use it as a guide. I can't stress this enough.
Remember that speed is more important, it's OK to follow some rules but not to the point that you stop creating content at a good pace.
The Yoast SEO Analysis takes into account 14 different assessments. Below you have a description of each one of them and how to get the green light in every case.
Yoast SEO Analysis
In this the tab, you'll find the SEO on-page analysis. Let's take a look at the most important aspects that are being analyzed on the SEO analysis.
Keyphrase in slug
Checks if you have used your Focus keyphrase in the URL, your post needs a SEO-friendly URL, short and with your keyword in it.
Yoast what is a slug? A slug is just the article URL.
For example, the URL of this article is https://vanessacast.com/yoast-seo-guide.
The main keyword "yoast seo" is in there and the URL is short and easy to remember.
SEO title width
What is SEO title? This is the title that people see on search engine results.
Yoast checks that the title is long enough. Too short is bad because you are not taking advantage of the space and too long is bad either because Google won't show the whole title in searches.
This is really important for SEO. If your SEO title is not good enough, people won't click on the snippet and read your post. No readers, no party 🙁
Yoast automatically generates an SEO title using your post title (yes, they can be different), but you can modify it using the Yoast Snippet preview.
Writing catchy titles is especially important. This Headline Analyzer from Coschedule will give you a helpful hand.
Keyphrase in title
Checks if your main keyword appears in the SEO title.
Yoast recommends putting your keyword at the beginning of the SEO title. However, don't force it, it needs to sound natural, if it doesn't make sense, just added later in the title.
Always include your keyword in the SEO title, this is a strong recommendation.
Text Lenght
OK moms, you can ignore this one and let me tell you why.
Yoast gives you the green light if you write more than >300 words, but 300 words for a blog post is too little.
Google considers that pages with little content provide little value, so this kind of pages with little textual won't rank high enough.
As you can see in the above graph, posts with 1900-2000 words rank higher on Google.
Aim for 1900 for every article you write and forget about this light.
Image alt attributes
Checks if you have images in your posts and whether or not those images contain the alt attribute.
The alt attribute or Alt Text (Alternative Text) is just a description of your image use by Google to understand what is the image about.
It's really important to rank higher on Google searches.
For example, if you add more than 4 images, you'll get a green light if the percentage of images with the keyword in the alt text falls within 30 and 70%.
If you use the keyword in more than 70% of your images, the light will turn orange to give you the heads up regarding keyword stuffing.
What is keyword stuffing? – It's simply adding your keyword everywhere, with the intention of ranking higher on Google. Google can identify keyword stuffing and penalize the site with a bad ranking.
Keyphrase in subheading
Here Yoast checks that your topic is reflected in your H2 and H3 headers based on your keyphrase.
You'll get the green light if half of your keyphrase is included in 30 to 75% of your subheadings.
Subheadings improve readability, it helps readers scan the content providing a nice user experience.
Previously used keyphrase
Checks if you have used the focus keyphrase in other article. You should only optimize one page for one keyword.
If you have two pages or articles focusing on the same keyword, Google won't know which one to rank, this is called keyword cannibalization.
Both articles will fight for the same keyword, both will end ranking lower and posts from other sites will rank higher.
Meta description length
This is the text that describes what your post is about. It's sometimes used it by Google to show it in search results.
A good meta description will encourage readers to click and check your article.
Yoast SEO WordPress plugin checks that your meta description is not too short (below 120 chars) or two long (more than 156 chars).
Where to add the meta description with Yoast? You can modify the meta description using Yoast snippet preview.
We can't control the number of characters that Google decides to show on search results, but Yoast checks that you stay on the safe side with a meta description between 120-156 characters.
Keyphrase in meta description
You'll get the green light when your keyword is included in the meta description.
Don't overuse your keyword, or the Yoast will give you a warning.
If you use Yoast SEO premium, it also takes into account the synonyms.
Keyphrase density
Checks if you are using your keyword often enough and also if you are over-optimizing (using your keyword too often).
Remember that you are writing for humans, not for Google. As long as you have this present, you'll be OK.
The free version of Yoast SEO gives you a green light when the keyword density is between 0.5 and 3%. All the words of your keyword must be in the same sentence, the order is not important.
Keyphrase length
Remember that the longer the keyword the fewer competitors you'll have.
If you go after keywords like "kids movies" it's going to be hard to rank high in Google searches, but if you go after the long tail keyword "kids movies on Netflix" it's going to be easier to outrank the competition with a good piece of content.
This indicator checks that you have a focus keyphrase and whether it's not too long. The optimum length is up to 4 words.
Keyphrase in introduction
Checks if you are using your keyword in the very first paragraph.
You only have a few seconds to capture your reader's attention, by using your keyword in the first sentence you are quickly stating what is your content about.
Google also use your first paragraph to understand what is your article about.
However, don't get to obsess with this, sometimes the first paragraph has nothing to do with the content, e.g, affiliate disclaimer.
Just focus on adding you keyword within the first 100-200 words.
Internal Links
This is a big one for SEO! The more links pointing to a page, the more important is that page or article for Google.
This is an important way to send a signal to Google about the value of a page or article.
This applies for internal links (pages within your blog) or external links (other sites pointing in your direction).
By applying a nice internal link strategy, you'll point Google spiders to more content within your site. Earning relevance for a specific subject.
You'll get a green light if you have at least one internal link.
Outbound Links
Another big one for your SEO strategy. It checks if you have at least one outbound or external link.
It also counts the "follow" and "nofollow" links. You need at least one "follow" link to get the green light.
What is a nofollow link? Nofollow links are a way to tell Google spiders to not pass the SEO-Juice to the target of that link.
In other words, Google use the number of backlinks (links pointing to your site or article) as an indicator of high-value content.
This will help you rank higher on Google searches, however, it only takes into account follow links.
Below you can see a study from Backlinko showing the average number of backlinks for articles ranking on Google's first page.
Don't worry about using nofollow on every external link, people think that this will hurt your site, but as long as you rank to trustable sites with great content you'll be OK.
In fact, Google will consider that your page has great relevance for whatever niche you are in. Basically, your article will be a great hub of content.
As you can see, everything is about serving your audience, Google also wants to serve their audience in the best possible way by showing relevant content.
It's our job to create valuable content that Google will love.
Yoast SEO Readability Analysis
Guidance to create an easy to read content. I really don't get to worry about this tab.
Yoast SEO will run the following readability assessments:
Transition words
Flesch Reading Ease
Passive voice
Consecutive sentences
Subheading distribution
Paragraph length
Sentence length
I only care about subheading distribution, it's important to have a well organize article, where readers can easily scan, having a wall of text it's not very user-friendly.
Paragraph length is also another good indicator, keep your paragraphs under 150 words to keep readers attention.
I always struggle with transition words, I know they are a powerful tool to improve the readability of my texts, but it's something I need to work on.
In any case, if you want to improve your copy, I recommend you to use the Hemingway App, it's just AMAZING!
Yoast SEO – Bonus track!
Besides the metabox there are many more things you can control using the Yoast SEO plugin.
Let's see some of them!
Yoast SEO Sitemap
The XML sitemap is like a treasure map or roadmap of your website. It helps Google identify the most important pages of your website, even if your internal linking is not the best.
With the Yoast SEO, you can create your XML sitemap very easy.
This is my XML sitemap created with Yoast: https://www.vanessacast.com/sitemap_index.xml
Where is Yoast SEO sitemap?
Just go to the WordPress Panel, Yoast(SEO) -> General -> Features, and switch the button to ON.
Yoast SEO Search Appearance
Here you can control the way your website title will appear in searches (snippet).
As you can see in this preview, you have the post title "Yoast SEO – Beginner's Guide, a separator, the symbol "|" and the website title "Vanessa Cast – Mom In Business".
This is something you can modify per post, but I recommend you to have a general structure in place and just change the post title.
In the WordPress console, go to SEO -> Search Appearance -> General
You can choose the Title separator you like the best!
Then go to the taxonomies tab and modify the SEO title at your convenience.
Regarding the category pages, I recommend you to stop indexing them if they provide no value. This won't hurt your SEO score, but it's a good practice to help Google go through the pages that provide real value to your audience.
What is Cornerstone Content?
Cornerstone articles are the best of the best of your website. It's evergreen content, linking to other important articles of your blog.
Think about the categories in your blog, and create one cornerstone post per category.
The idea is that this cornerstone page centralizes all the content for that category or topic. Linking to more specific articles about the subject.
This is like a definitive guide for the specific category, subject or topic.
With Yoast SEO you can mark your page as cornerstone content, by doing this Yoast will enable the text link counter (you can see at a glance if your cornerstone content has enough links from other posts within your site).
When you mark your content as a cornerstone, you also enabled the Cornerstone Analysis. This is a more rigorous analysis of SEO and readability than standard posts.
Why Yoast SEO?
Yoast SEO for WordPress with more than 5 million active installations is one of the most downloaded WordPress plugins of all time.
The online community is huge and the content they share in their Yoast blog is amazing.
Since there are so many users you can be sure that if you are going through any issue, someone has gone through it before.
---
Leave a comment and share with us your experience with Yoast or if you are planning to give it a try!
Ron is true tech-savvy, with +15 years of experience testing and working with different platforms that will help you run your business smoothly. SEO Strategy, Email marketing tools, WordPress, plugins, automation tools, image editors, video editors, etc. If you want to find the best tool to get the job done, Ron is your guy!